Flood Tips
What to do in a flood: before and after tips for Storm Frank
The recent floods have caused much damage to properties and wreaked havoc to small businesses in the north of the UK. Here are some before and after tips.
By Gary Holmes, Product Manager at Direct Line for Business in For Small Businesses.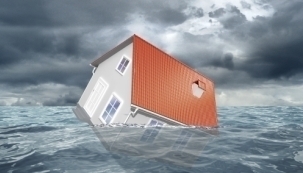 If you're a customer and have been affected by the floods, then please call the claims team on 0345 301 4827 if you need to make a claim.  Phone lines may be busy but please be assured we're doing our best to answer all our calls and progress claims as quickly as possible.
Our claims team is available 9am-5pm Monday to Friday. Any queries after 5pm on Friday will be answered the following Monday from 9am.
For emergencies you can still ring us on 0345 303 1753 and follow the out of hours instructions.
Storm Frank is the latest weather front hitting northern and western parts of Britain with strong winds and rain.
Preparing for bad weather can be half the battle, so make sure you keep an eye on the weather forecast. You can also check with the Environment Agency to see if your rental property or business premises are at risk from flood. You can also sign up to receive flood warnings online or call the Floodline (0345 988 1188) if you're in a flood risk area.
Strong winds can also cause considerable damage. But with a little bit of preparation, you can help minimise the damage.
Before the flood or storm: preparing for the worst
If you're in a flood risk area and you're a landlord, get in touch with your tenants as soon as possible to make sure they know about the situation.
Ask your them to unplug all electrical items and move any valuable items to a higher level or upstairs if possible. Put heavier items on bricks and turn off gas, electricity and water supplies at the mains.
If your small business is at risk, move any stock and business equipment to a higher level or upstairs.
Sandbags are a simple but effective way of limiting damage and you can buy them from DIY stores or, in an emergency. make your own using bin bags or old pillowcases filled with sand. Position sandbags at the bottom of the door to stop water from coming in.
Cover any air bricks [a ​special ​type of ​brick that has ​small ​holes in it that ​allow ​air to go through a ​wall] as this will help stop water getting into your property.
Prepare a flood kit which contains a torch, some spare batteries, wellington boots and waterproof clothing. 
Make sure you have a list of useful numbers, such as your local emergency services and the local council handy.
Store all important documents safely in a plastic bag at a higher level or upstairs.
Ahead of stormy weather, make sure any garden furniture is secure and bring pot plants and  items such as bicycles and children's toys indoors if possible.
Make sure any loose fences are secured before a storm and try to remove any hanging branches from dangerous trees so that they don't damage your or your neighbour's property in strong winds.
After the flood: if your property is affected by flood or storms
It's important to get in touch with us as soon as possible so we can discuss your claim.
If you can, take photographs of the damage to your building and also any contents which are damaged. This may help settling the claim.
Don't throw anything away unless you've discussed it with your claims advisor. Damaged items will need to be assessed, so discarding any items could delay your claim.
Make sure that you have your policy number to hand when you call so that our claims team can verify your details without any delay.
Flood claims: what happens next?
Once you have called the claims team you'll be expected to go through some questions. Once we confirm the policy covers that type of damage, we can then start to process your claim.
We will need details of the damage and will ask you to send us any photographs you might have along with any receipts and estimates you have collected. We can then look to process the claim as quickly as possible.
Depending on the extent of the damage we may send a Loss Adjuster to your property. This is an impartial professional, working for the insurer, who advises on the steps to take to get your property repaired and your business back up and running.
If you're living abroad and have a property in the UK then your disclosees can contact us to make a claim on your behalf. A disclosee is a friend, family member or business colleague you can name who can handle claims and make amends to your policy. Make sure they have all the details to hand so that we can process the claim as swiftly without delay.
Important numbers
Gas problems
To report a gas leak you can contact the National Grid online or call 0800 111 999.
Electrical issues
To report an electrical hazard or if there are problems with overhead electricity lines contact your local electricity company.
Sewage
To report an overflowing drain or for sewage problems contact your council.
Met Office
To keep an eye on the weather with updates from the Met office. 
Highways Agency
If you have plans to travel over the next few days then make sure you check the Highways Agency for all the most up-to-date travel information.