Buying a van for business
How to buy a new van: VansA2Z's ten top tips
Here are VansA2Z editor Neil McIntee's top tips for buying a new van
By Neil McIntee, Editor of VansA2Z in For Van Drivers.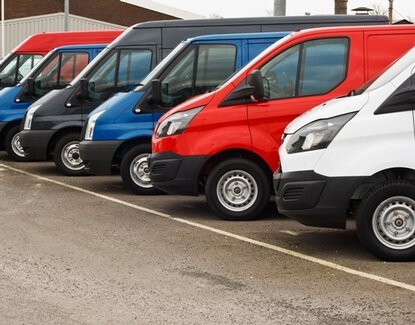 On the face of it, buying a new van should be a relatively easy matter. Most dealerships nowadays have shiny new showrooms, staffed by experts who will help you make the right choice for your needs. But sadly, it seems that a lot of van buyers still get it wrong. At VansA2Z we estimate that up to 30 per cent of people choose the wrong vehicles for their businesses. And it can be an expensive mistake to make.
Follow our ten top tips for buying new vans and you won't go far wrong:
Size matters Far too many people buy the same make and model of van time and time again without stopping to think if a different one might be better suited to their needs.
If you choose, say, the Ford Transit because you've always done, then consider: could you make do with the smaller Transit Custom or even Transit Connect? They're both cheaper to buy than the big Transit and use less fuel. As most vans are rarely driven fully loaded, many users could downsize safely.
Even if you need a bigger van for a few days each year, it will still be cost-effective to buy the smaller vans and rent bigger ones on the odd occasion when you need them. You can rent a large panel van for about £65 a day.
Try to buy popular standard-sized vehicles If you require something other than a panel van, try to order standard models such as dropsides, tippers, Lutons or box vans if you can and adapt them to your needs. If you buy a really special vehicle for a certain job, you'll lose money as second buyers probably won't have the same requirements as yourself.
Choose optional extras carefully When buying new vans you'll be offered hundreds of extras, which you'll have to pay for, of course. Many are expensive and won't add value to your vans when you come to sell them. Basically, anything you can see like alloy wheels and metallic paint add value, but sadly extra safety systems (such as additional airbags), which you can't see, don't.
Colour still matters While most vans still come painted white, there are quite a few other colours on offer at buying time; and some of these prove a real turn-off to second buyers. Your vans will be worth less when you come to sell them if you choose, say, moss green.
Branding your van Talking of paint, don't be tempted to go for one of the old-fashioned signwriting jobs. Nowadays, there are any number of companies to choose from who will 'wrap' your vans in vinyl, which can be removed – revealing a nice pristine paint job – when you come to sell them.
You don't have to go the whole hog to brand or advertise a business and most suppliers will be happy to help with graphics etc. A van is great mobile billboard, so use it.
Ply-lining is a must Nothing puts off second users more than a dented and dirty cargo area on a van. There really is no excuse for this nowadays as for around £200 you can get your vehicle ply-lined inside, which will fully protect the load area. When you come to sell it, a clean van will make a lot more than £200 extra over a dirty one, so you could actually make a profit from shelling out for this wonderful addition at buying time.
A bulkhead is for life If you employ drivers, you have a duty to keep them as safe as possible on the roads. Amazingly, some smaller vans still come without a full bulkhead as standard so if your prospective purchase is one such example then don't skimp; pay the extra for a full size item, preferably steel, to be fitted. Without a bulkhead, drivers and passengers can suffer serious injuries or even death from flying objects from the load area in the event of an accident. Bulkheads also act as an additional security feature.
Choose your van make and model carefully Quite a few vans on the roads today are basically the same, but with different badges. For example, the Fiat Scudo, Citroën Dispatch, Peugeot Expert and Toyota Proace are clones of each other – and so are the Renault Kangoo/Mercedes-Benz Citan and Renault Trafic/Vauxhall Vivaro.
When it comes to selling them, however, they don't always go for the same amount. Ken Brown, an expert at residual value guide CAP, revealed that at auction the Citan was making 20 per cent more than the equivalent Kangoo. The Citan is more expensive to buy, but it could be a better purchase in terms of life-cycle costs, which include the front-end price, running costs and residual value.
Is your dealer up to scratch? At the beginning of the article we stated that most dealer showrooms are new and shiny, staffed by competent people. But sadly, this isn't always the case. You should expect to deal with a salesperson who knows inside and out the needs of commercial vehicle buyers and can offer all kinds of advice and support. If the van section of your dealership is an old Portacabin round the back, we'd recommend shopping elsewhere.
Check out fuel economy Before you shell out the cash, take a little time looking at the relevant fuel economy figures for rival vehicles; they vary quite a bit. You'll find all the information you need by visiting: www.vansA2Z.com and clicking on the 'Van Comparator' button.
You'd be amazed at how a small change can make a huge difference to your company balance sheet. For example, a van which returns 39mpg will use £320 more fuel over 100,000 miles than one which returns 40mpg.