Van safety tips from VansA2Z
Van safety tips from VansA2Z
Vans A2Z's tell us their top tips to improve van safety
By Neil McIntee, Editor of VansA2Z in For Van Drivers.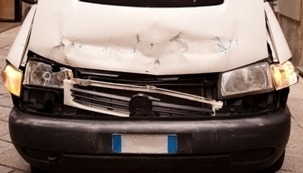 Health and safety at work is an incredibly important matter – especially for van drivers. But sometimes when things get busy, it's all too easy to slip into bad habits, which immediately present a number of risks, both in the yard and on the roads.
The arrival of the Corporate Manslaughter and Corporate Homicide Act 2007 has made it even more important for employers to tighten up on their health and safety procedures, as in the event of a fatal crash, the driver and the employer can both be prosecuted, and the penalties are high.
If found guilty, a company can face an unlimited fine. However, the Sentencing Advisory Council recommends a figure of between 2.5% and 10% of average annual turnover.
So here are some top tips to help you boost your health and safety credentials.
Put van safety first
Health and safety concerns should always be at the forefront of your mind, even before you purchase any vehicles.
Fortunately, there are a range of different safety systems available, although it's worth noting that some vans may have more of these systems on board than others.
For example, Electronic Stability Control (ESC), which helps prevent sideways skids and has been lauded as the best safety invention since the seatbelt, is now a legal requirement on all new vans. But if you buy used vehicles, they may not always be installed.
Similarly, many of the bigger panel vans on the market nowadays will have full bulkheads fitted as standard, but some of the smaller ones don't.
If a bulkhead is not fitted, cargo will come flying forwards very quickly in the event of a crash, causing injury to anyone in the front of the van. So it's essential that you get a bulkhead fitted in your vehicle as soon as possible, if it doesn't already have one.
It will also be a good idea to install speed limiters (set at 70mph) in your fleet's vehicles so that your drivers can't exceed the maximum speed limit. This will help you to minimise the risk of accidents and any fines which may be accrued through excessive speeding as much as possible.
Manage your driver's hours
Many van drivers can become dangerous on the roads because they are given too many tasks or deliveries to make during a day, meaning that they can only keep on schedule by speeding.
If you have a problem in this area then buying a telematics package that will help identify the best and most efficient routes will be a good idea.
Although it will cost a bit at the front-end, the money you'll save in the long-term will justify this initial expense.
Driver training
Training comes in various forms; from on-road sessions with an expert, to online assessments. The same goes for your drivers.
Some may need only a little bit of training, while others may need much more.
So rather than having a blanket arrangement to train everyone in the same way, you should look to tailor any driver training to the individual wherever possible.
If, for example, you notice that some of your drivers are getting through an excessive amount of fuel, you could make arrangements for them to have a quick refresher course on driving in an eco-friendly manner. This could help you to improve your fleet's environmental footprint, and make your vans more cost effective at the same time.
Keep your vans tidy
Making sure that your van storage area is neat, tidy and organised is crucial when it comes to improving the health and safety credentials of your fleet.
Go out into your yard (if you have one) and take a look around. Chances are you'll find all kinds of equipment and rubbish lying around which could cause injury to you or one of your staff.
If this is the case, clear away all rubbish immediately, and keep any equipment you may need at a later date stored away neatly to minimise the risk of a workplace accident.
Be sure to do the same in your van's cab as well.
Even small items can lead to injuries in a crash, so make sure that all of your vans are kept clear of all rubbish, and any necessary items (such as a mobile phone or SATNAV) are stored in the van's glove compartment to keep them out of the way.
Make use of van racking
All cargo should be either strapped in securely or tucked away in proper racks. This is especially true of flatbed trucks, where too often cement mixers, pipes and the like are simply dumped in the cargo area with nothing to tie them down securly.
You should also make sure that you and your drivers are taking the proper personal precautions to avoid injury whilst loading.
This means never lifting anything that you can't easily manage, ensuring that your back isn't overly bent when you're lifting an object and making sure that you lift your head up once you have a good grip on the load you're lifting, to name only a few. 
Keep your screen wash topped up
It's essential to make sure that windscreen washer bottles are kept topped up with proper screenwash, particularly if several people drive the same van and in the rainy winter months when there is typically more mud on the roads.
If this does get overlooked by either you or your drivers, all that stands between your van and a potential crash or pedestrian accident is a muddy road or a sudden shower. Both of which are a common occurence at this time of year.
Take a look under the bonnet
Don't forget to take a look under your van's bonnet from time to time and check the oil, water and brake fluid levels.
Any breakdowns could leave drivers at risk by the roadside, not to mention any valuable cargo they may be carrying.
Check your tyres
Worn and wrongly-inflated tyres will almost certainly lead to a crash. Which is why ensuring that your tyres are in full working order is a legal requirement.
To make sure that your tyres are in the best condition possible, you should be performing a visual check each morning (to make sure your tyre's tread is of sufficient depth and breadth), and a proper pump check each week.
In the event of a fatality you, the employer, will face questions from the police who may well decide to prosecute under the Corporate Manslaughter Act. So making sure that your vans are in top condition should be a priority.
And don't scrimp on the cost
When it comes to tyres, you shouldn't rely on cheaper brands.
More often than not budget tyres will be very unreliable compared to their standard counterparts. Their performance when it comes to essential driving manoeuvres (such as turning corners and breaking) can differ greatly from the bigger brands, which make them more prone to accidents.
So although it can be tempting to save yourself some money and buy a cheaper tyre, it's really not worth the risk of a crash or police fine.
Keep your drivers informed
Whatever you do to improve your health and safety credentials, it could all come to nought if you don't get the backing of your drivers. So make sure that you take the time to explain to your drivers why you're bringing in health and safety changes.
If you need to arrange any training, make sure that the driver knows why, and if any member of your fleet have any questions about any new health and safety measures, take some time to talk to them about it. 
But although these tips could very well help you boost your health and safety standards, they will not be able to prevent accidents from happening completely. So making sure that you have the right insurance for your van should be your top priority.