Home office productivity tips
4 tips for working productively from your home office
Are you running a business from home and want to increase your productivity? From home office security to technology this post provides advice.
By Gary Holmes, Product Manager at Direct Line for Business in For Small Businesses.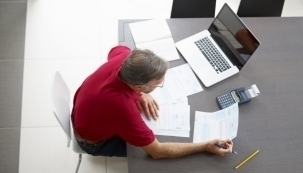 It can be hard for home business owners to separate their personal and professional lives. It requires a lot of organisation and a little luck! What could help you out is some insider tech know-how. Below are our four top tips to ensure you don't get your wires tangled.
1. Home office productivity
Working from home means you can work flexible hours, but you may not wish to flag this with clients or potential customers. If you find yourself working odd hours, you can make use of Microsoft Outlook's scheduling feature to deliver emails during regular working hours, no matter what time you actually hit send. Likewise with Gmail, you can use a tool called Boomerang to do the same thing. This way when you're dropping the kids off at school or working the graveyard shift, your emails will still be going out giving the impression you're in the office.
2. Take note
Ditch the Post It Notes and Filofaxes and step into the digital age. Evernote allows you to take notes whenever and wherever you are. It also has a handy feature that allows you to snap a picture of something and add it to your notes just in case you don't have time to get the words down.
3. Expand your tech knowledge
Help isn't always on the way for those tech catastrophes. Emails stuck in your outbox? Files not reading from your memory card? Scour the internet for free software to help you out, or better still, go on a short course to fill in the blanks. If you're an advocate of the Apple Mac and its companions, then you might be able to find tech support at Apple's in-store Genius Bar.
Make sure you keep up to date with the latest updates for the software that you use. You don't want to be left behind by your clients, so set up auto update so they're delivered overnight or when you're not in the office. This way when you restart your computer in the morning you'll be ready to go.
4. Home office security
Antivirus. Firewalls. Passwords. Make sure you are clued up on security and don't use the same password for everything. As annoying as it might be having to remember the name of your first pet combined with your favourite childhood food, it's much less annoying than logging on to find you've been hacked.
This is even more important if you're using cloud storage. While it's a great way to store and distribute content, make sure your password is secure.
Try to vary your passwords as much as you can, and with services such as DropBox and Google Drive, you can set alerts that will notify you if someone attempts to log into your accounts from other locations.
For more tips on how to manage your home business, check out our Knowledge Centre.