What you need to know about driving your van with no MOT
What you need to know about driving your van with no MOT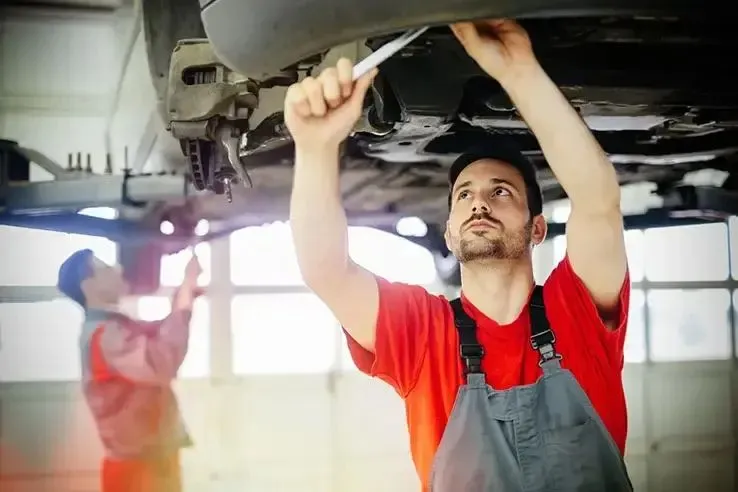 Driving your van without an MOT can cost more than a few days' work
Let's say you forgot your MOT test was due and by the time you realised, it was too late to get an appointment. You now face a choice between losing out on work or driving without an MOT for a few days before a test centre can fit you in. When your van is your livelihood, this may seem like a tough call. But driving without an MOT could cost you more than a day's work.
What is an MOT test?
The Ministry of Transport test, otherwise known as the MOT test, is a comprehensive inspection of a vehicle to make sure it's roadworthy. This includes checking that the vehicle meets the minimum road safety and environmental standards. Your vehicle must pass the MOT test in order to be legally driven on the road, and the test must be carried out at an authorised test centre.
What happens if you get caught driving without an MOT?
If you're stopped by the police and asked for a copy of your valid MOT, and you do not have a valid certificate available online, you could be facing some serious consequences. While you may be let off with a warning, you could come away with a hefty fine - the penalty for no MOT can be up to £1,000.
And if your van is seen as 'unroadworthy', things could get a lot worse. You could be fined up to £2,500 if your van is in a dangerous condition and given three points on your driving licence per fault. If you've already got existing points on your licence, one or two damaged tyres and a broken light could lead to a driving ban of up to two years. The result? You might have to cancel planned business activities and turn down future work, which could result in losing clients - both new and existing - who might question your reliability.
Is there ever a time I can drive without an MOT?
The simple answer is, no, it's illegal to drive without an MOT. If your vehicle is more than three years old, you can't drive without an MOT unless you are driving to a pre-booked test at an authorised test centre. If you're hoping to use this as an excuse and you're caught on the way to work, be warned. You'll need proof of your appointment if stopped, otherwise you'll face the same penalties as everyone else.
Is my van insurance valid without an MOT?
When your van's MOT expires, the insurance is still in place. However, most insurers will base your insurance off your van's roadworthiness. To prove that your van is roadworthy, you must have a valid MOT. Therefore, if you are involved in an accident and don't have a valid MOT, your insurance may be void. But you shouldn't be on the road without an MOT regardless.
When does my new vehicle need an MOT?
Your vehicle needs a valid MOT certificate straight away, unless it's less than three years old. Just got the keys to a second-hand van? The same "driving without an MOT" rules will apply to your drive home, so ask the seller how long is left on the MOT before you buy. Usually, the MOT certificate is carried over from the previous owner. If you decide to buy a van without an MOT, book a test before you collect it, so you can pick it up and drive it straight there. Easy.
What do I do if my MOT expires - and where can I book an MOT?
If your van MOT runs out, you'll need to book another before you can hit the road. You can renew it as early as one calendar month prior to the expiry date of the existing certificate, without affecting your annual expiry date. And if your van fails the MOT, you can only drive it until the expiry date too.
Your van can be tested at a vehicle testing station, indicated by the MOT logo - three interconnected triangles. To find a testing station, check online.
I've booked my MOT test - what can I expect?
That's great - here are the answers to some common MOT questions.
How much does a van MOT cost?
There's a limit to how much you can be charged for your test, depending on the size of your van and what you use it for. The cost of an MOT will vary depending on the class of your vehicle. How much you'll pay for repairs is relative to what the test finds. But the more you've looked after your van, the less likely something unexpected (and expensive) will be found.
What do I need to bring to an MOT?
Bring your appointment letter, vehicle registration document or log book (V5C) and latest MOT certificate (if you have one).
What do they check in an MOT?
All the important parts of your van will be tested to make sure they meet the legal standard, including the:
Body structure
Bonnet
Brakes
Doors
Fuel system
Exhaust emissions and system
Horn
Lights
Load security
Mirrors
Registration plates
Seat belts and seats
Steering and suspension
Tyres and wheels
Vehicle identification number
Wipers, washers and windscreen
Regular maintenance checks also mean that you're less likely to break down. Breakdown cover is still essential, but keeping your vehicle in good shape will give you extra peace of mind.
Many of the items checked during the MOT can and should be regularly checked by you throughout the year. This will not only ensure that you're up to date with your van maintenance, but it will also help your vehicle remain roadworthy.
How long is an MOT test?
MOTs take about an hour, but bear in mind the time you drop your vehicle at the test centre might not be the time the test starts. Check what time your van will be ready when you book, so that you can plan your business activities accordingly. However, if your vehicle fails the test and you agree to have the repairs made, it will likely take longer.
Your van's MOT results
All test results are included in a central secure database. This database is now the only place that proves your van has a valid MOT. Your certificate acts as a receipt.
Pass - if your van passes its MOT, you'll receive an MOT certificate.
Fail - if your van fails its MOT, you'll receive a notification of failure.
Your advisory notices
You may also receive an advisory notice, letting you know about things that may eventually need fixing with your van. These notices highlight maintenance concerns that are not yet enough of an issue to cause your van to fail the MOT.
Disagreeing with MOT results
If you disagree with the test results, discuss this with the testing station before repairs are carried out.
It's possible to appeal against a failed test result within 14 working days. You'll need to submit a VT17 form declaring your full test fee. This can be obtained from the testing station, online, or by calling the Vehicle and Operator Services Agency (VOSA). Your vehicle will then be re-tested within five days. If your appeal is successful, you'll receive a new, valid MOT certificate and a full or partial refund of the test fee.
Penalty for no MOT certificate
If your van is of testable age and you don't have a valid MOT test certificate, then you're breaking the law and could end up with a 'no MOT fine'. As of October 2016, you could receive a fixed penalty notice from the police, currently at £60, or a court fine of up to a maximum of £1,000.
In most cases, it's illegal to drive without an MOT. There would be an exception if you have an expired MOT and are driving to a pre-booked test at an authorised test centre. But be warned, you'll need proof of your appointment. Otherwise you'll face the same penalties as everyone else.
If you don't have a valid MOT certificate, you won't be able to tax your van. This may also invalidate your insurance.
How can I avoid driving without an MOT in the future?
It's much better to arrange your MOT before it expires. That way, you can give yourself time to save for it and won't run the risk of driving without one. Worried about accidentally driving without an MOT? Set a reminder on your phone or sign up for free reminders by text or email.
For more information about MOTs, visit VOSA or Gov.uk.
Want to get your van insured but not sure which policy is right for you? Check out our van insurance pages for the different options.