Building a trusted brand
Building a trusted brand
When we think about the word 'brand', it's likely that the first examples that come to mind will be famous brands owned by big companies. But the idea of branding is highly relevant for small businesses too, and even without big budgets you can use branding to stand out in your industry. We've caught up with Marine Turner and Jon Hildrew - two experts from global marketing agency Mediacom - to find out more.
So outside of the obvious, why are brands important?
A brand is more than just a company's logo, as having a brand helps both the business as well as its customers. In short, what a brand does is to help someone notice and recognise you, and then in a blink of an eye summon all the associations they have previously made: what was my past experience like? What products do they sell? What services are they good at? Are they cheap? And do I trust them? A brand is a shortcut that we use to make decisions.
What are the main things to get right?
Building a brand is a fundamental part of developing a business, and by sticking to three simple steps, what seems an arduous task can be tackled by a business of any size.
1. Be visually recognisable
As branding is about recognition, the first step is to get your visual identity right. Choose a set of visual cues that will embody what your business stands for - and then stick to them! This doesn't solely refer to your business's logo, but also includes fonts used (e.g. on business cards, invoices, your website and in your place of work) and your chosen colour scheme. Consistency is key. Creating templates and standardised documents is an easy way to get started. Being consistent doesn't just aid recognition - it also signals a degree of care and attention to detail.
2. Find a voice
It is also important to establish a consistent tone of voice in all communications, this is how the character of your business comes through in the written and spoken and the impression it leaves. From how phone calls and emails are answered, to text on the website, and when in contact with clients and suppliers. There is no definitive right answer, and once again, consistency is what matters. Consider the impression you want your customers to have of you - and perhaps how you can be distinctive when viewed next to your competitors.
3. Make a statement
Lastly, a great technique to ensure everyone understands what your company stands for is to try and articulate why it exists - beyond your own ambitions. It sounds like an easy thing to do but it is often difficult, even for the most well-known brands. For example, when it was founded, Microsoft's mission was "a computer on every desk and in every home", while Ikea's is "to create a better everyday life for the many people". This doesn't have to be too lofty but should encompass an ambition beyond just selling goods or services. Try these tips on drafting and delivering your elevator pitch.
How can businesses earn trust?
One of the associations we make with companies, via their brand, is whether or not we trust them. That can prompt a few important questions: can I rely on them to get the job right? Are they truly experts at what they do? What will happen if something goes wrong? Especially in a time of uncertainty, establishing trust is crucial.
The difficulty is that simply asking for customers' trust won't wash - after all, why should anyone trust you? The key is to demonstrate why a brand should earn someone's trust. As the saying goes: "don't say that you're funny; tell me a joke".
Fortunately, there are a few ways that brands - both big and small - can show their customers why they deserve trust. Many of these are based on the psychology of how people choose between two brands when buying a product or service:
Demonstrate your expertise
We're more likely to trust a company when they do one thing particularly well, as we intuitively recognise that their business depends on getting that one thing right. Companies that spread themselves too thinly run the risk of looking like they're hedging their bets. Consider your biggest strength and best offer, and make the very most of that.
Play on your heritage
There's no good reason for preferring to choose a company that has been around for longer. But heritage does convey an important piece of information: how much a company's owner - especially for family-run businesses - has invested in their enterprise. We're more likely to trust a company when they've got more at stake.
Show you're in it for the long run
Going the extra mile for customers shouldn't just be about delighting them (especially as often this isn't what customers want). But it does do one thing, it shows that you're expecting a future relationship with the customer and are therefore in it for the long run. This is a great way to earn a customer's trust, especially if you're an unknown start up or selling something unusual.
Concede to a weakness
As counter-intuitive as this sounds, people can be more likely to trust a company when it owns up to something it doesn't do well. This simple act of honesty means we're then more likely to take a company's claims about its strengths more seriously. Stella Artois's 'reassuringly expensive' is a great example of this. Don't be shy about admitting to the limitations of what you offer, as this can work wonders!
We know business owners are often wearing many hats - from marketing to accounting to selling! We've spoken to a range of marketing experts, so whether you're looking into using an influencer to promote your brand or need some help plotting out your PR focus, our Knowledge Centre could help.
Marine Turner is an Associate Director at MediaCom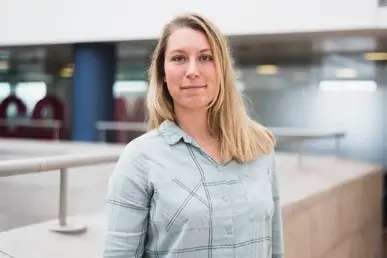 Marine is an expert in creative strategy and media planning having worked across a range of different brands including Skittles, MLC and Sky. Her campaigns have won a total of 9 industry awards and she now heads the media planning team for Direct Line and Direct Line for Business at Mediacom.