Instagram Marketing for Beauty Businesses
5 Instagram marketing tips for your beauty business
Whether you're advising a client on the latest nail trends or giving them the hair transformation they've always dreamed of, running your own beauty business can be very rewarding. However, if you really want your business to thrive, a well-thought-out marketing strategy is key. That means identifying the right channels to communicate with your clients and using those channels in the most effective way.
While simply having a presence on social media is important to communicate with clients, your business can really blossom if you use it to market yourself effectively.
Thanks to its 1 billion active monthly users, Instagram is one of the best channels for promoting your brand, and there are lots of opportunities for SMEs to grow Instagram followers. We spoke to Metta, founder of award-winning nail artist service Nails by Mets, for some expert Instagram tips on how to use the platform to maximise potential for your beauty business.
1. Showcase your best work
Think of your Instagram page as a shop window. You want to capture people's attention by showing off the best of your products and services and posting according to current industry trends.
"To accurately represent your work and brand, use a good quality camera and only showcase your best, most relevant work," Metta says. "Keep it strictly business – Saturday night's bar selfie won't give your clients, or potential clients, the best impression. When taking photos of your work, make sure you use good light and avoid uploading blurry or grainy photos. High quality photos will usually get more likes."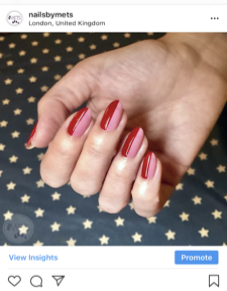 2. Post regularly and be consistent
Instagram rewards people who post regularly. "Choose how frequently you want to post (daily, multiple times a day etc) and stick to it." Metta says, "Use Instagram Insights to see how well your posts perform – you can identify key trends like the best times to post for the highest engagement and which types of posts are most popular."
It's understandable if you're busy with client appointments but, thankfully, there are tools out there that can make regular posting much more achievable. Metta works with big clients like MTV, Ted Baker and M&S, but she's used to planning her social posts around her busy schedule. "Tools like Later, Planoly and Buffer allow you to schedule posts and images ahead of time, making it great for social media planning."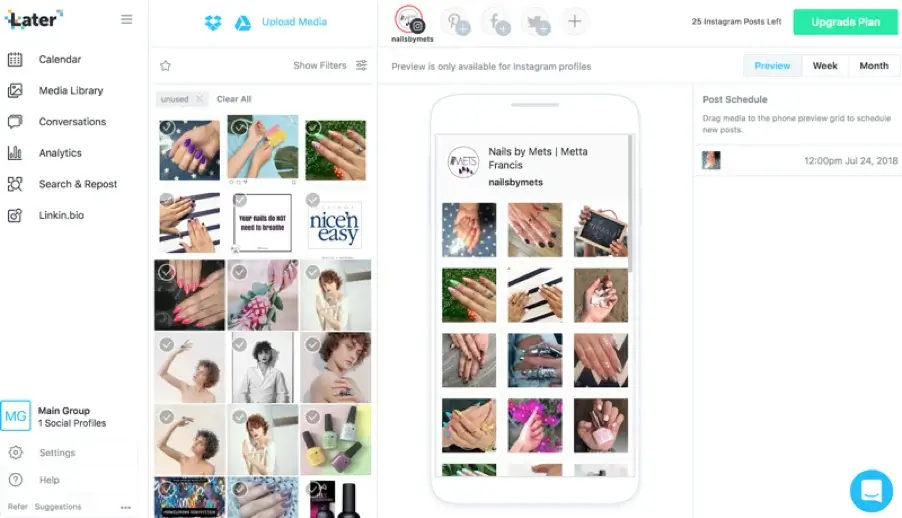 3. Interact and engage
Instagram is a social network – so be sociable! If you take the time to respond to comments and messages, it'll pay off for your brand. "The more active you are, the easier it is for others to find you." Metta says, "to get people to engage with your posts, add a call-to-action to captions encouraging followers to like your post or comment – ask a question, tell your followers to double tap if they like your photo, or ask them to leave an emoji in the comments."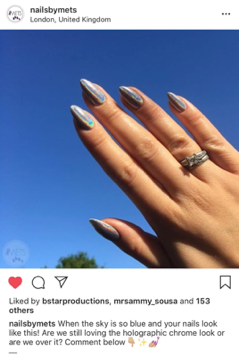 4. Make the most of Stories
The Stories feature is a great alternative to time-consuming posts. They can be as fun and creative as you'd like, providing a brilliant way for your clients to get to know you and have an insight into your business. As well as this, they can build brand awareness, increase engagement and drive traffic to your website.
"Using Instagram Stories is a great way to share what's going on behind the scenes." Metta says, "It's also the perfect place for content that isn't quite 'right' for your main Instagram grid – it only lasts 24 hours so doesn't need to be archived. You can use it to show the hard work that goes into what you do, share step-by-step processes of your work or show people any glamorous events you attend. You can even create polls on your Stories – engagement isn't only for the feed! To boost engagement even more, tag your stories with your location and key hashtags - this will increase the likelihood of being discovered by users who don't already follow you."
Don't want your Stories to seem disposable? You can use the Highlights feature to create categories that stay on your profile, for example, you could have a 'glitter nails' collection that's always available for your followers to admire.
5. Use relevant #hashtags
Chances are, you've seen plenty of hashtags on social media – especially supporting photos on Instagram. They allow your posts to be seen by people outside your follows, hence Metta uses them to grow her beauty business.
"We use hashtags on Instagram to create searchable keywords which can help clients find you. For example, users looking for a nail artist in South London are likely to search #nailart and #SouthLondonnailartist. While the general #nailart hashtag might result in thousands of entries, #SouthLondonnailartist is more specific, meaning you're more likely to be found – and even featured as one of the top posts for this hashtag.
You can use up to 30 hashtags per post, but don't go overboard. It can look too much like spam and Instagram can penalise you. Creating your own branded hashtag, like mine (#nailsbymets) is a great way to keep track of your work on Instagram – kind of like a portfolio. Encourage your clients to post photos of your work using your hashtag to make it easy for you to find and share."
Looking to go freelance?
Before you take to Instagram to grow your business, you might need to take out beauty insurance, first. Find out about our personalised beauticians insurance and which treatments are covered to get a quote. If you're running a nail artist business, we also have nail technician insurance that can be tailored to your needs.