Are your customers happy?
Are your customers happy?
Customer service should be part and parcel of everyday business when interacting with customers. Here are some customer service tips to get you thinking.
By Jazz Gakhal, Director of Direct Line for Business in For Tradesmen.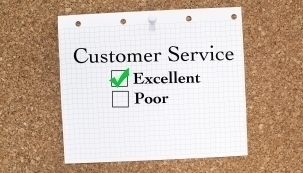 Customer service skills aren't just for the person dealing with your complaint about your phone contract or broadband issues. Customer service should be part and parcel of everyday business for anyone who interacts with customers.
Good customer relations are vital to build trust with clients. This is especially important when large portions of a project could involve you being in a customer's home. It not only increases the chances of being re-hired in the future, but also improves the chance of being recommended for another job. With that in mind, here are some customer service tips to get you thinking:
1. Be honest with your customers.
This means providing a quote before you start work and agreeing achievable start/finish dates. You'll look professional and it'll help you plan your finances and work load better.
2. Ask plenty of questions about the project.
This shows interest in a potential customer's issue or project that may be dear to them. Plus, it's an opportunity to show off your insight and expertise. Are they aware of any building or planning regulations that they may be subject to? Talk about your past jobs and how you have the experience to give them confidence that you can do a good job.
3. Prove you're a professional
Let the customer know that you have public liability insurance and make them aware of your relevant licences such as gas and electricity certificates.
This puts you in good stead by proving you have a safety-first attitude when it comes to carrying out potentially hazardous work.
4. Open dialogue with your customers.
Make sure that they're informed at all stages and are kept up-to-date with any major hiccups and upcoming issues. If there's an unexpected error, be sure to explain the issue clearly and your suggested solution.
5. Make a record of everything
Make a record of all communication with your customers and keep track of the different stages of a project. Having a timeline allows you to cover your back should there be issues down the road. It also allows you to prove your professional outlook by being able to break down complex projects into bite sized chunks for your customer.