What landlords need to look out for in 2017
What landlords need to look out for in 2017
Kate Faulkner looks at the housing market predictions for 2017 and how the potential market conditions might affect landlords
Looking to 2017
The year 2016 could have been considered a 'bad year' for landlords due to increased tax and costs. But it's easy to forget that for most investors, property prices and rents did rise and mostly above inflation. This means that although it cost more to invest and let property, healthy returns were still achievable.
For 2017, the housing market predictions for prices in particular aren't quite so rosy and this will depend on where your properties are in the UK.
So what are the expected house price and rental trends in 2017?
Savills Forecast
One of the most helpful forecasts comes from Savills Research. This study provides independent residential property research analysis that is particularly useful for residential investors.
Lucian Cook from Savills believes that over the next few years "buyer sentiment across all sectors of the market is likely to be fragile during the period of negotiations to leave the EU". As a result, their forecasts are predicting a property slowdown from a real estate perspective in 2017 for property prices. This potential slowdown is important to understand as it could impact on the way you manage your property.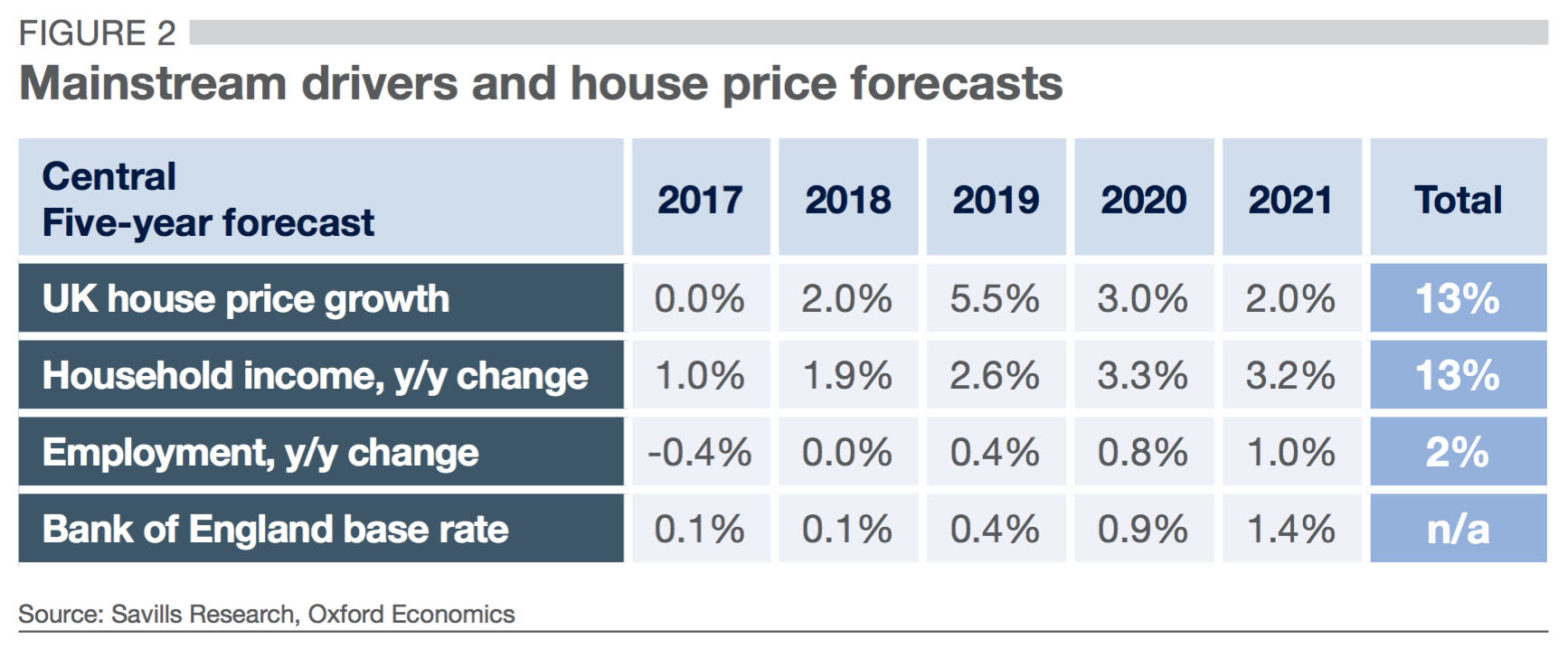 Following the credit crunch we now appreciate much more how economic factors affect the property market. This is the starting point to generating and understanding housing market forecasts.
The above table shows that the predicted good levels of employment will help demand remain consistent from a rental and property purchase perspective. At the same time, the low bank base rates will help landlords (and other buyers) to achieve some good returns while borrowing is likely to stay at historically low rates for the next few years.
Household income/wages affect rental growth
For landlords, wage growth is critical in terms of rental income. In the past, we have rarely seen rents rise in excess of wage (income) inflation. So with small amounts of income growth expected over the next couple of years, it's likely to be a bit tougher for landlords to increase rents – even if your renting costs are rising.
Having said that, Savills do believe that rents will have a healthy growth rate and are forecasting rent rises above wage inflation, but this isn't guaranteed. Possibly rental dynamics could change due to the government's measures aimed at curbing the growth of the private rented sector through a reduction in buy-to-let investment.
Many areas across the UK currently have enough rental stock versus tenant demand. However, if rental demand continues to increase, but supply tightens due to the impact of government policy as predicted, then this will help allow landlords to raise rents in areas where people can afford to pay more. This in turn will help mitigate the rising rental costs.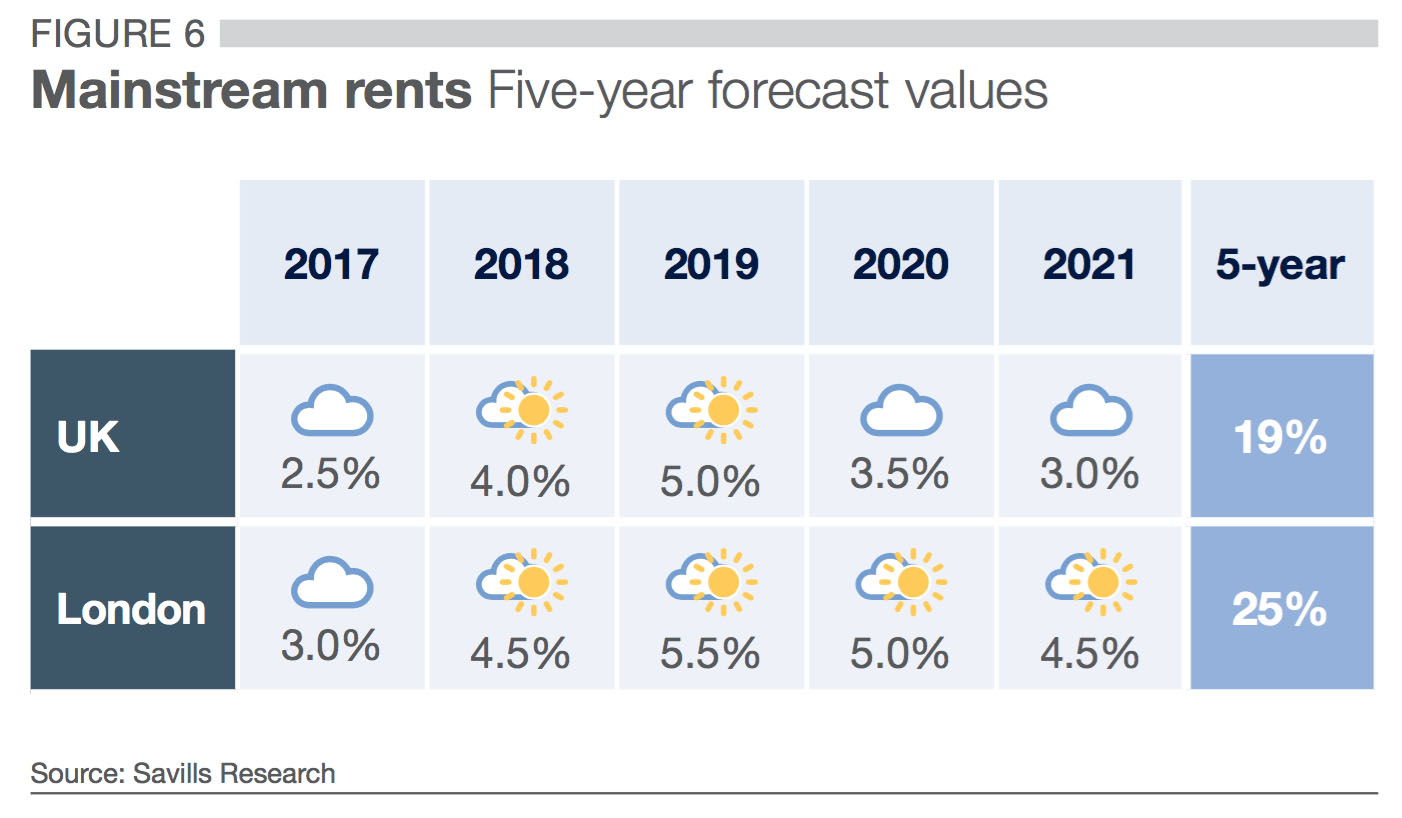 As always, there are regional variations. Areas such as London and Bristol are expected to outperform the 19% growth over the next five years predicted by Savills Research. On the other hand, areas such as Sheffield are only expected to see around 8% growth over the same period.
Looking at price, Savills research real estate team believe rises aren't guaranteed over the next few years. In 2017 they don't expect to see any growth in the UK (see fig 2). Savills think the best hope for house price trends to improve is in 2019 when prices could rise around 5.5%.
For 2017 though, the chart below shows that most areas are expected to see small falls. However, the East of England, South West and East are the only areas predicted to see some small growth.
What's interesting about these forecasts is that if they're accurate, natural property price growth over the next five years is going to be a lot lower than in the past. According to data I've looked at from the UK's government HPI index, average annual property price rises since 2000 have been around 6-9%, not the few percent predicted each year.
Initially this seems like bad news for landlords, but you're looking to expand your portfolio then these forecasts are ideal. Robust price growth and market activity over the last few years, especially in the south, has meant picking up bargains is hard, if not impossible, to do. A slower market means more deals are available. So if you're investing for the long term, these predictions are great news as you'll have more of a chance of buying at a discount.
It's not automatically bad news to sell a property investment in 2017. Although a slower market isn't ideal, if you invested some time ago then you're still likely to have seen good enough growth over time for a decent return. Plus, you could also hang on until 2019 to see if the market improves then as predicted.
And don't forget, these are just forecasts!
Click here to read more.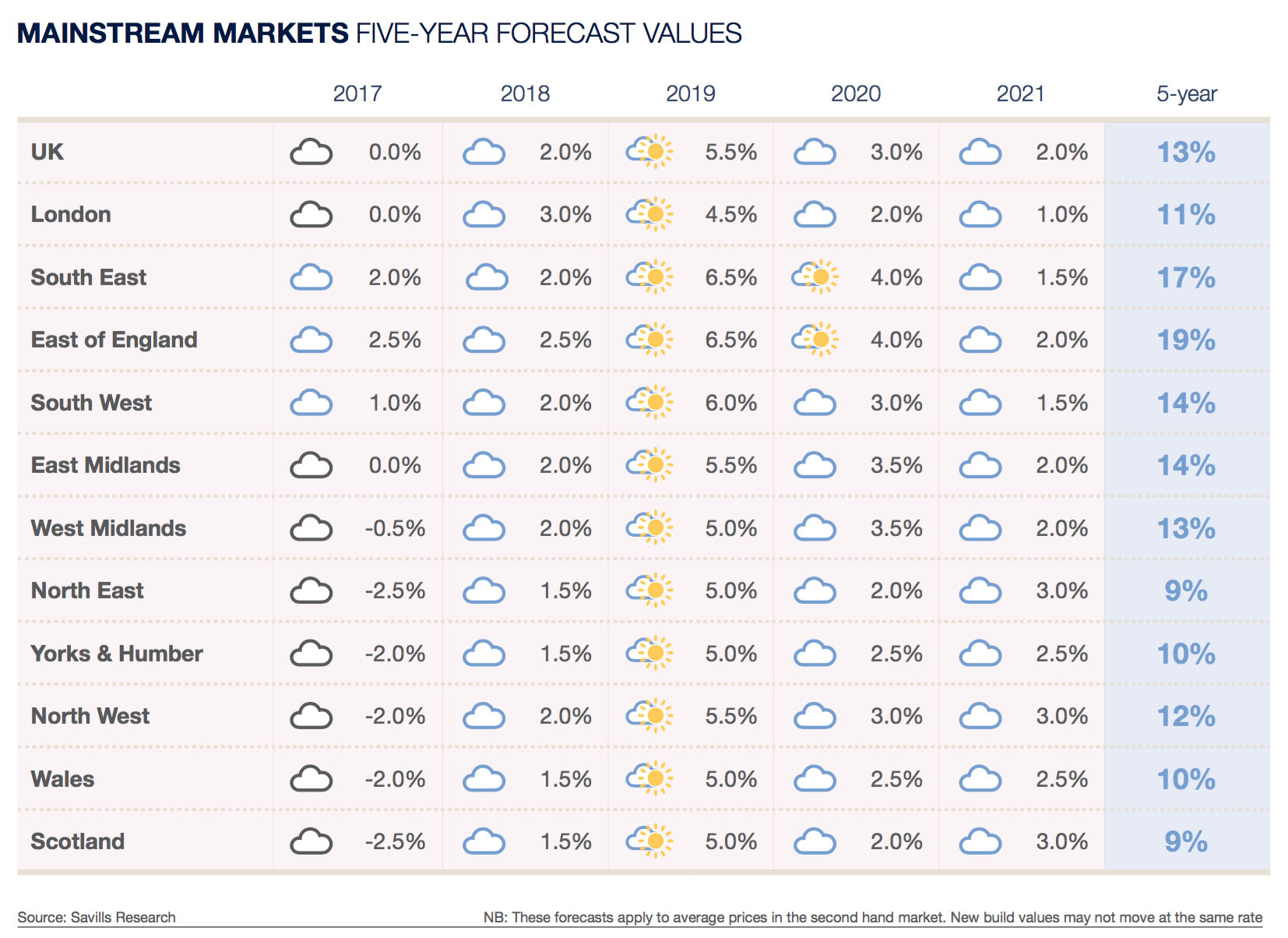 Source: http://pdf.euro.savills.co.uk/uk/residential-property-focus-uk/residential-property-focus-q4-2016.pdf
House Price Trends in 2017 - a potential slowdown?
So what is driving house market forecasts to predict a downturn in the market for 2017?
In terms of property market analysis, the vote to Brexit is one of the key influencers on the market. This is because the property market is heavily reliant on people's confidence in the future and Savills believe that the on-going negotiations will create a level of uncertainty. That's certainly true for the many migrant renters who currently don't even know if their future still lies in the UK.
The expected weaker economy could mean further bad news, such as lower income growth and possible job losses, which can reduce confidence in the housing market.
In addition, in some parts of the country, there is the issue that people's capacity to borrow is restricted via the Mortgage Market Review (MMR). The MMR assesses the interest rates for affordability at 6-7%, not the current low rates, while the restrictions on lending levels are at 4.5 times people's income.
This means in areas where house prices are generally higher, such as London, affordability is an issue. For example, a quick glance at sales data on property website Nethouseprices shows that £250k is roughly the entry point into the London market, versus an area like Nottingham where it's £60k.
All of this uncertainty and a 'cap' on how much people can afford helps keep demand and property price growth restricted.
In addition to normal buyer demand falling, buy-to-let investors are expected to buy less too. Savills believe they account for around 10% of all purchases and that by 2018 buy-to-let demand will have fallen by a whopping 33%.
This is good news for existing landlords as demand for rental accommodation is expected to continue to rise in the housing market. If supply is restricted, it potentially allows rents to outperform their natural rate of growth.
So not all doom and gloom!
The increasing costs of being a landlord
As explained above, the market forecasts can play in your favour whether you're looking to invest in more buy-to-let properties or not.
However, what won't play in your favour is that the numbers that have delivered great property investment returns in the past have already changed. Furthermore, they will change dramatically again over the coming years too. We have already seen the impact of the 3% extra stamp duty second home owners have to pay. Following a rush to buy in the first quarter of 2016, the stamp duty increase has definitely reduced demand in many areas.
Over the next few years, investors who hold properties with a mortgage will see profits impacted quite substantially due to being able to deduct the interest and costs of the loan from the rent. Some tax experts believe it could triple tax bills. So if you don't know what the impact these changes are going to have on your future earnings, it's vital to make sure you consult a property tax expert. If you don't, you may end up with a surprisingly high bill from 2018/19.
In addition to increasing taxes on buy to let, costs are also likely to continue to rise to let a property safely and legally with constantly changing rules and regulations. The latest changes have increased costs for landlords.
In England, landlords need smoke alarms and for properties that use "a solid fuel burning combustion appliance" they need to ensure carbon monoxide alarms are installed too. They also need to do right-to-rent checks on tenants to ensure properties are only let to people who are in the country legally. In Wales there is landlord and property licensing and in Scotland more stringent electrical safety checks.
Coming up for landlords not following the law, the real increase in costs is more councils enforcing the rules and regulations and fining landlords as a result. From April 2017 for example, fines of up to £30,000 can be levied by local authorities on landlords that consistently and knowingly break the rules and treat tenants poorly. So I believe there is now a lot less room for landlords to make mistakes and not keep up with the latest rules and regulations.
The biggest impacts on landlords' profits
To make a profit, landlords really need to get a grip on the changing costs and taxation over the coming years. They also need to know how these changes are going to impact on their individual property investment or portfolio.
Once that's clearly understood, checking which properties are delivering the best returns is essential. If you have two bed properties, think about what the local property price and rental trends are and make sure that they will continue to be in short supply in the future. Do the same if you for three beds or flats.
Areas can change dramatically in a few years. If there are lots of new build properties planned, then this could dampen returns. Furthermore, institutional investment in rental properties by large landlords or more affordable homes via increased investment in shared ownership or socially rented homes in an area could especially impact returns.
At the end of the day, property investment results are mostly driven by future supply and demand. This means the more limited in supply the properties you have are, then the better returns you are likely to get.
The in-demand property types - what's in and what's out
Property types are critical to investment returns as knowing what works as an investment now and in the future is vital. But it's important to be aware that there is no 'one property type' that works nationally as different properties perform at different rates in different local areas.
For some areas, one bed flats work exceptionally well from a returns perspective. In other areas, it can actually be cheaper and give much better investment results if you purchase a two bed terrace nearby. Some areas are now oversupplied with room rents and HMOs, while others are still desperate for quality room rents.
It's always worth tracking the specific property types that are rented out quickly in an area and therefore show a high rental demand. Take into account also what properties in different areas tend to 'sit on the market' for a long period of time, so maybe more difficult to let at maximum rental values.
So if 2016 was a time to absorb higher costs while receiving property price and rent increases, 2017 is a time for real research and making sure you approach buy to let and letting property in a thorough and highly professional way.