Fire alarm regulations for landlords
Why new fire alarm rules are coming for landlords and what you need to know
Landlords must install working fire alarms in their properties from October. Here's how the new rules will work.
By Steve Sims, tax consultant and financial journalist in For Landlords.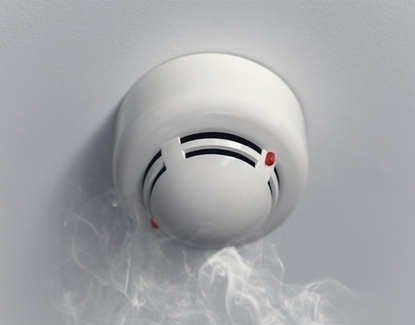 Landlords must install working smoke and carbon monoxide alarms in every private rented property from October 10, 2015, providing MPs agree new regulations shortly due to go before Parliament.
The new rules follow years of campaigning by Torbay MP Adrian Sanders after two children died in a blaze at a private rented home in Torquay, Devon, in 2009. 
The measure has already gained cross-party support and is expected to move quickly through Parliament without any objections or amendment.
The aim is to save lives by making rented homes safer for tenants. Every year, 36 people die and 1,375 are injured in fires at homes with no smoke or carbon monoxide alarms.
Now, Housing Minister Brandon Lewis has acted to put a stop to the needless waste of life with some simple and straightforward regulations.
How the new rules will work
Every private rented home in England is covered by the regulations
To comply with the rules, landlords must fit a working smoke detector on every floor of a rented home
If the home has solid fuel heating, such as a stove or fireplace, the landlord must also have a working carbon monoxide detector in the room
Landlords must test each alarm works correctly at the start of every tenancy
Tenants are responsible for making sure the alarms continue to work throughout their tenancy by carrying out regular tests
The government will make money available to local fire services to supply free or subsidised alarms to landlords
It's likely the new regulations will include sanctions to stop landlords from renting out homes without working alarms. They could also face fines of up to £5,000 for flouting the rules.
New-build homes should already meet the new rules under current building regulations.
Saving lives
The main targets for the safety measure are older buy to let houses, flats and small houses in multiple occupation (HMO) that do not need any local authority licence.
Housing Minister Brandon Lewis said: "In 1988, just 8% of homes had a smoke alarm installed – now it's over 90%. The vast majority of landlords offer a good service and have installed smoke alarms in their homes, but I'm changing the law to ensure every tenant is given this important protection.
"Working smoke alarms provide vital seconds needed to escape a fire. I urge all tenants to make sure they regularly test their alarms to ensure they work when it counts. Testing regularly remains the tenant's responsibility."
Communities Minister Stephen Williams added that people were four times more likely to die in a fire in a home without smoke or carbon monoxide detectors.
"That's why we are proposing changes to the law that would require landlords to install working smoke alarms in their properties so tenants can give their families and those they care about a better chance of escaping a fire," he said.
Jane Guaschi, Business Manager, at Direct Line for Business said: "We welcome these changes to the law as they will inevitably make homes safer for tenants. We know that the majority of landlords are already being responsible by installing these life-saving devices but by making it a legal requirement it should help reduce the number of deaths and injuries sustained.
"Installing a fire alarm and carbon monoxide detector is relatively easy to do, and as long as they are tested regularly, they can make a huge difference and ultimately save someone's life."