We've partnered up with Enterprise Nation for 2016!
Direct Line for Business announces partnership with Enterprise Nation for 2016!
This coming year will see a new partnership between Direct Line for Business and Enterprise Nation. Direct Line for Business Director Jazz Gakhal explains more.
By Jazz Gakhal, Director of Direct Line for Business in For Small Businesses.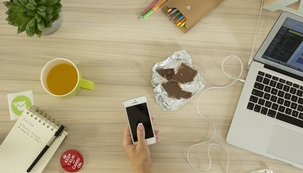 In 2016 Direct Line for Business will be starting a new partnership with Enterprise Nation. The partnership sees us working with Enterprise Nation for the second year running. We'll sharing our expertise with thousands of small businesses while also listening and learning about what these companies really need from an insurer.
I think I speak for everyone at Direct Line for Business when I say that we're delighted to be working with Enterprise Nation again. The upcoming year is bound to be an exciting time for start ups and we're excited to be partnering with Enterprise Nation to help start-up hopefuls turn their dreams into reality.
Starting out can be a challenging time for a small business, but we looking to provide an abundance of expertise, guidance and knowledge to help them succeed.
What is Enterprise Nation?
Enterprise Nation is the UK's most active small business network, offering support and advice to start ups and growing businesses. Enterprise Nation currently has 70,000 members and an adviser community which is 13,000 strong.
The organisation's founder Emma Jones is a huge advocate for small businesses across industry and government levels. Here's what she had to say about the partnership: "'At a time when small companies need support, we're delighted to partner with Direct Line for Business to offer practical content and inspiring events with tips on everything from social media to making sales.
"The partnership will also deliver the all-important information on how small businesses can be insured and stay protected."
What does the partnership mean for you?
If you're an Enterprise Nation member, Direct Line for Business is your go-to consultant to understand your insurance needs. This means if you want to know what you need to cover your craft business at home, or perhaps your own accounting practice, then get in touch.
For our current customers, we'll be using this opportunity to share all of the great start-up events that we're going to be involved with alongside Enterprise Nation.
On 16th January the partnership will kick off with Start Up 2016, the UK's biggest start-up show with an expected 2,000 attendees in London  – though it'll also be live-streamed across 10 locations in the UK. We'll be in the Insurance Zone where visitors can ask our consultants insurance-related questions.
To register for this free event click here.
Both myself, and our very own Nick Breton will be speaking at the event:
Nick Breton, Head of Direct Line for Business, will be talking about 'How to keep financially fit' at 3.45pm
Jazz Gakhal, Director at Direct Line for Business, will be talking about 'How to start a business' at 3.00pm
Keep up-to-date with the latest news and events by following us on Facebook and Twitter.