Tips for business growth - Emma Jones
Tips for growing your small business from the Enterprise Nation founder
There's never been a better time to grow your business. Emma Jones gives you her five top tips to get you started now.
By Emma Jones, the Founder of Enterprise Nation in For Small Businesses.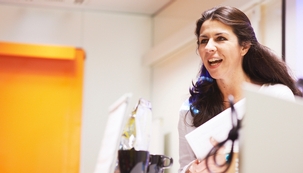 With the sun in the sky and confidence in the air, it's a great time to grow company sales and turnover. Here are five options to get you started.
Sell to big brands
Large retailers and big brands are keen to buy from you. They want your innovative products, authentic story and entrepreneurial zeal – and, increasingly, they're prepared to pay prompt to get the goods too! For the past two years, Enterprise Nation has hosted an event series called The Exchange to match small businesses with buyers from big brands. Brands including Sainsbury's, Boots, Mothercare, House of Fraser, Selfridges and John Lewis have jumped at the chance to present to and meet with an audience of ambitious small businesses. The conversation is focused on how the small business can get in the supply chain of the major channel. It's an increasingly viable route to market.
Sell to the government
Just ahead of the election, the Prime Minister said he wanted to see procurement commitments go much further. The target is for government (central and local) to buy up to a third of all products and services from small businesses. If you think the government only buys road, rail and large scale items, think again. The public sector is in the market for everything from catering to garden landscaping, multimedia and graphic design. Whatever your business, take a look at online contracts portal, Contractsfinder, to assess the opportunity – and start writing bids! It can be an admin heavy and frustrating process but the results make it worth persevering.
Take your business global
With 1.2 billion customers online across the globe, some of them could be yours! The 'Made in Britain' brand is selling well in international markets, and entering overseas markets has never been easier when you can start trading via online platforms such as eBay, Etsy and Amazon. Later this year Enterprise Nation takes 40 Great British businesses to China to do deals and carry out market research. With 55,000 new babies born every day, 10 million weddings a year, and a penchant for all things British, this is definitely a market worth exploring!
Get business advice
A recent government programme called Growth Vouchers has delivered results showing that small businesses who seek advice grow faster than those who don't. Identify the areas in which you need help and support and search over 12,000 advisers on the Enterprise Nation marketplace to select advisers in your locality or industry that could plug gaps in company knowledge, whether it be guidance on sales and marketing, IT and Web, access to finance, taking on staff, etc.
Get your business involved!
With so many organisations intent on supporting your success, it's crazy not to get involved! From the Small Business Saturday campaign that supports, inspires and promotes small businesses, and encourages consumers to buy from small businesses, to corporate accelerators, there's support all around – as well as profile opportunities. Be on social media and subscribed to small business network newsletters to be first to hear the latest news.
Taking these steps will lead to an increase in sales, and hopefully profit. And that's pretty good for confidence levels too.
Emma Jones is founder of Enterprise Nation.
Enterprise Nation is the UK's most active small business network.