Vans A2Z's top towing tips
Van towing tips from Vans A2Z
Vans A2Z's top tips on how to tow with a van legally and safely.
By Neil McIntee, Editor of VansA2Z in For Van Drivers.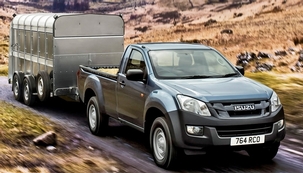 The issue of towing trailers with light commercial vehicles — whether it be a van, pick-up or light truck — is one fraught with dangers and general misunderstandings.
From the rules and regulations surrounding trailers and towing, to less bureaucratic issues such as parking and manoeuvring, towing is often a complicated endeavour.
Watch our brief video below for some quick tips to help you keep on the right side of the law.
Make sure you have the right type of license
The first potential problem that needs to be addressed is your license. Specifically, you need to work out if you are actually entitled to tow trailers.
Fortunately, the law is very clear on this point.
If you passed your driving test before 1 January 1997 then you will be entitled to drive a vehicle and trailer up to a combined Maximum Authorised Mass (MAM) of 8.25 tonnes.
However, if you passed your driving test after 1 January 1997 — unless you have taken an additional B+E van and trailer category test — you can only drive a van coupled with:
A trailer up to 750kg MAM, or
A trailer over 750kg MAM as long as the combined weight of the van and trailer is less than 3,500kg Gross Train Weight (GTW)
Make sure that your trailer isn't too heavy
Before hitching a trailer to a commercial vehicle, the user needs to be sure that the vehicle can actually take the weight of the trailer.
Every van has a maximum braked trailer weight that can be towed. So before you attach the trailer to your vehicle, you need to check in the handbook to find what your van's is and make sure you don't exceed that limit.
Doing so will not only leave you liable to a fine, but you may cause an accident and hurt either yourself or another road user in the process.
Weight related modifications
If the combined gross vehicle weight of the van and trailer exceeds 3.5 tonnes, then you have to fit a tachograph (a small electronic device which records driving time, speed and distance) to use the vehicle, although there are a few exceptions to this rule.
To figure out if you need to fit a tachograph to your vehicle, simply add the gross vehicle weight of the van and the trailer together. If the result brings you over the 3.5 tonne mark, you'll need to have one fitted.
And don't forget that if a tachograph is fitted, each driver of the vehicle will have to have a digital Driver Card to operate it. Cards cost £19 from the DVLA and are valid for five years.
Do I need a tachograph?
The rules are a little grey here, but basically there are two main ways you can get around the problem of fitting a tachograph.
Firstly if you aren't carrying goods for hire or reward and secondly if you don't travel more than 33 miles, or 50km, from base in a day.
The first may be true if, say, you are taking a load of rubble to the dump. You aren't exactly carrying it for reward, unless you are being paid to do so by someone else. So you wouldn't need to have a tachograph fitted.
Don't overload your vehicle
Loads should be spread evenly across the trailer and not bunched at one end or over one wheel axle.
To make sure that your loading is safe, check the weight limit of your trailer and be sure not to exceed it.
In addition to this, loads should not protrude out of the sides of your vehicle further than 305mm and out of the back by more than one metre.
Make sure your trailer's width is legal
UK regulations on trailer widths were different to the rest of Europe until 2010; with a maximum width allowance of 2.3 metres here, compared to 2.55 metres across the channel.
Fortunately, you are now permitted to tow a trailer or caravan up to 2.55 metres in width behind a goods vehicle weighing less than 3,500kg.
Towing brackets are important too
Vans registered since 1 August 1998 must only be fitted with a 'type approved' bracket tested to European Directive 94/20/EC.
The bracket will have a label, plate, or stamping detailing the type approval number and the vehicle for which it is an approved fitment.
Know the difference between unbraked and braked towing
If your trailer is unbraked, the maximum you can tow (combined weight of trailer and load) is 750 kg or half the kerbside weight of the towing vehicle, whichever is the lower value. Any heavier than this, and the trailer has to have its own set of brakes.
Check and check again
We can't over-emphasise the importance of checking your trailer before and during a journey.
Obviously loads should be securely strapped down, but you should also be checking the tyre pressures, ensure all vehicle lights are working, and that the number plate on the trailer is the same as the one on the van (and that it's not obscured) as well as ensuring that the wheel nuts aren't loose.
Take care
Vehicles with trailers act in a different manner to ones without. So make sure to leave yourself plenty of room to manoeuvre and stick below the signed speed limits.
It's also worth bearing in mind that when towing, you are restricted to a maximum speed of 50mph on single carriageway roads, and 60mph on dual carriageways and motorways, provided no lower limit is in force.
Reversing a trailer is a real skill in itself, so if you aren't confident about towing, it might be a good idea to go to a secluded parking area one evening and practice.